Hello, all of you wonderful human beings! ☺️
Today, I'm here with a blog collaboration that came to life when I was working on my Sprinkles of Dreams Blogger Feature, and thinking about blogger friends I would love to collaborate with.
One of the first people who came to my mind, of course, was Olivia—we have so much love for the same books, and TV shows & more, and frequently find ourselves chatting endlessly about anything and everything, so the decision to collaborate was the easiest one in the world.
We ultimately decided on giving you book recommendations based on Harry Potter characters—as the title of my blog post tells you, she picked the Marauders, and you can find the characters I chose, plus my recommendations, in this blog post!
I love her recommendations, and everything about her post so, so much, and I'll leave you here with the hope that by the end of this post you adore her just as much I do, and show her all the love in the comments below! 💗

Goodreads – Twitter – Instagram – Tumblr – Bloglovin'
Hi, everyone! I'm Olivia, your resident Hufflepuff bookworm, and I'm truly honored to be here on Sprinkles of Dreams today.
I'll be doing more gushing about Lily and her blog at the beginning of the post on my blog, but as I'm sure you all already know, she's an incredibly sweet, kind, and welcoming human and I'm so happy to be doing this collab with her!
When Lily and I first started planning out what we were going to do for a collaboration, we were thinking about things that we both love, and pretty quickly we landed on Harry Potter. I pretty much never stop talking about Harry Potter, and I've been lucky enough to be able to fangirl about it with Lily, which contributed to the creation of this post.⚡️
I have to say, the Marauders are genuinely some of the most iconic Harry Potter characters. I've always been intrigued by Moony, Wormtail, Padfoot, and Prongs and would read or watch any kind of spinoff about them if that existed. My love for them led me to write my recommendations about them- two books per Marauder that I think they would enjoy or would read if they were *sob* alive.
Enough of my rambling, let's get to the recommendations!
Moony (Remus Lupin)
One characteristic of Lupin that J.K. Rowling makes very clear throughout the series is that he always feels like an outsider. He constantly feels alone and as if he's on the very brink of happiness but not quite there yet, even when he's with people he loves. My heart hurts typing this. I think Moony would enjoy The Outsiders because it would show him that he's not the only one who feels like an outsider, and he would also see that being on the "outside" doesn't define you as a person.
We all know because yes this is common knowledge that The Raven Boys has the ultimate friend group. Lupin, being a part of an ultimate friend group himself, would probably also like to read about other friend groups. I think he'd be able to find a little bit of himself in Gansey, Ronan, Adam, Noah, and even Blue- and maybe apply that to becoming a better friend himself.
Padfoot (Sirius Black)
Hear me out on this one. Yes, this is non-canon, but I feel like Sirius is secretly a soft little marshmallow?? And he would read Aristotle and Dante Discover the Secrets of the Universe and bawl because it has soft boys and the slowest, sweetest romance?? And then Lupin would give him chocolates and they would live happily ever after. But *ahem*, I really do feel like Sirius would enjoy this and I cannot be swayed on this fact.

On the opposite side of Sirius Black's emotional spectrum, I also think he would enjoy an action-packed fantasy with plenty of deceit, blood, and heists- but also with a considerable amount of bravery, courage, and daring, all of which are traits that, as a Gryffindor, Sirius values above all others. I can just see him now, engrossed in this in the Gryffindor common room, excitedly telling James about his new favorite character, Kaz Brekker, and pulling Six of Crows inspired stunts on the students and faculty at Hogwarts.
Prongs (James Potter)
Honestly, this seems right up James's ally. I mean, Harry definitely got his courage and bravery-but-sometimes-stupidity from someone, right?! I think this came from James gave him those genes, and would, therefore, enjoy a good old-fashioned hero story himself. He'd be able to relate to Percy as well as to all the other characters since most of them also have some form of a hero complex. Maybe Harry Potter was the ultimate hero, but I think we can all agree that James Potter died a hero in more ways than one.
Becoming, by Michelle Obama
Okay, so, at first glance Becoming doesn't seem like it would fit. But I can explain, I promise. 😉 Michelle Obama is amazing- she can command a room, she's done so much good in this world, she came from humble beginnings, and she's incredibly strong. I think James Potter would read this because he respects the women figures in his life and in the world (i.e., Professor McGonagall, who we all know the Marauders adored) and would want to educate himself. Secondly, I think he would see Lily Evans as reminiscent of Michelle Obama (strong-willed, yet kind, very intelligent, came from a Muggle home) and would want to try and understand her more by reading this book.
Wormtail (Peter Pettigrew)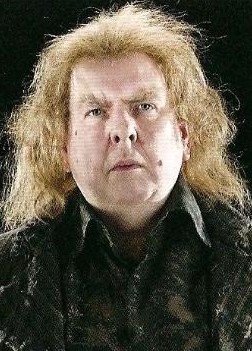 I had to do this one. Yes, I really did. Because even though I know this is supposed to be more of a deep analysis, when I realized how perfectly this book title fit with Peter, I couldn't resist. I feel like no more is needed to be said, honestly?
Caraval, by Stephanie Garber
At least at the beginning of this book, the main characters (Scarlett and Tella) are actively seeking adventure. They've heard about Caraval, and they want to go see it and they're willing to do whatever it takes to get there. That reminds me a lot of Peter Pettigrew. He was always the outcast, and he was desperate for adventure. That's when he found the Marauders- becoming friends with them was like his equivalent of finally getting to go to Caraval.
There we have it, book recommendations for all the Marauders. Thank you so much to the wonderful Lily for having me on her blog to talk about Harry Potter and books and for collabing with me in the first place! I had the best time.
Thank you all for reading my recs, and I hope you have a magical day!✨